[14 Mar 2008]
Miss HongKong, Myolie Wu, announces her ideal boyfriend: Must be strong, tall and likes cats
from:长沙晚报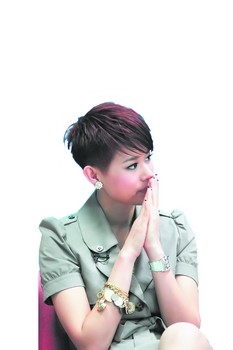 When Myolie Wu was placed third in Miss Hong Kong Pageant 1999, not many people would have expected that the "girl-next-door" who did not have exceptionally outstanding looks, will become one of TVB's most well-known lead actress in a few years. She did not rely on her pretty face and good figure to get to this position. Instead, it was her hardwork and willingness to put herself down- playing the dim-witted in Golden Faith and the fat girl in To Grow with Love. As long as the producer gives the order, she will do her best. Now that she has made her mark, Myolie is still not satisfied. While doing the interview yesterday, Myolie talked about her show, To Grow With Love, which will be airing on Hunan TV soon. Apart from that, she also talked about the guidelines of choosing a husband and her long-term goal- "I wish to be like Ah Jie (Liza Wang), be popular for 40 years."
Onscreen Image- Fat in the past looks cute, would like to become mature now
Due to the filming of To Grow With Love, Myolie gained 21 kilograms within three months, and her weight became heavier than 75 kilograms. However, the Myolie Wu that appeared in front of the reporters yesterday appeared to be very slim. There have been rumours that after the filming of To Grow With Love, Myolie started to lost weight frantically, resulting in anorexia. When the reporters asked about this matter yesterday, Myolie explained, "Am I very thin? Actually i am 50kg now, whereas when participating the Miss Hong Kong pageant, I was only 46kg. "
Perhaps it's the "Fat girl" image in To Grow with Love that reaches out to everyone, and there are even fans who prefer Myolie to look chubbier. However, Myolie prefers herself to look slimmer. "There are alot of people who told me that I look cuter when I'm chubbier. I feel that it is not a matter of looking good or not. It's because when I was fat, I feel that there was a huge burden on my body and it's very tiring. Therefore, I rather slim down fast. Also, I used to take on the cuter characters in the past, thus looking chubbier may appeal more to the audiences. However, I'm getting older and I hope to change my image. I would like to appear a little mature and with character. That explains my haircut. Haha."
As for the praises of sacrificing for the character, Myolie said with a smile, "Do I have the time to consider? The producer only informed me to take this role, and I agreed immediately. I like to accept challenges and I like to try as long as I can do it. Furthermore, I am still young now, there's nothing impossible. "

GOAL: Be popular for 40 years like Liza Wang
Apart from filming dramas, Myolie said that she is placing more emphasis on filming commercials and performing, which results in her busy life. Myolie did not feel that it's hardship. "I am not afraid of the busy schedule. This is a good thing as it proves that I am popular, " she said.
When asked about the public putting her and Charmaine Sheh on the TVB's leading actress position, Myolie seemed to avoid this. She said, "Don't put me so high up, isn't that giving me trouble? I am still very young." As for the issue of her competing with Charmaine Sheh for the title of "TVB's best actress", Myolie said, "It cannot be rushed when it comes to getting an award. Furthermore, the award is only an extra encouragement. It's like finding a dessert after eating the main course...The most important is the gaining of audience's support."
As for the highest goal in her career, Myolie said, "I idolise Ah Jie Liza Wang. When I was the guest performer for Ah Jie's 40th anniversary concert, I was overwhelmed when I saw her performing on stage. If only I can be like her and be popular for 40 years."

Husband's requirements- Tall Strong Loves Cats
In everybody's eyes, Myolie is a couple with Bosco Wong. Even veteran Liza Wang encouraged them to get married as soon as possible. However, the two of them would not admit it. When asked about rumoured boyfriend, Bosco, Myolie remained aloof and said, " We are not dating, we are only good friends." The reporters asked if there is a chance of developing the relationship, she said, "I wouldn't say that it's impossible, just leave it for the future."
However, Myolie talked about the requirements of her future husband. "Must be tall, strong, nice to get along with, and love my nine cats at home. If he becomes allergic at any point of time, I will break up with him. Sorry!"
Getting married is not her priority now. "There are alot of successful leading actresses in TVB and many of them can remain there till over 30 or even longer. I think I will be like them. Haven't you all realise that many women are not getting married till after 30. So i will also not think about it anymore. "
Admin





Posts

: 29


Join date

: 2008-03-02



omg bosco fits all the requirements whatttttttt. hahahaha!
way to go myolie! :D
_________________
My One & Only Love - Myolie Wu ! (:
& 19th Jan 08 & 30th Nov 07
Boscolie ` Rayolie ` Kevolie <3
Moderator





Posts

: 156


Join date

: 2008-03-02


Age

: 25


Location

: Singapore



Thanks for the news!!~ So thats why Myolie changed her hairstyle.. haha~
M-W Member +





Posts

: 77


Join date

: 2008-03-21



okay. her hair's nice!
the short, sporty, cool look. !
M-W Member +





Posts

: 153


Join date

: 2008-03-06


Location

: Singapore



everyone said that she is mentioned Bosco
she looks so cool with her shorty hair....
Fantastic Newbie *





Posts

: 7


Join date

: 2008-03-23



i think she looks good with her short hair.
Hmm,maybe she is refering to bosco since he fulfill all her requirments!hahaha.
Fantastic Newbie *





Posts

: 21


Join date

: 2008-03-22



Fantastic Newbie *





Posts

: 2


Join date

: 2008-12-19




---
Permissions in this forum:
You
cannot
reply to topics in this forum